"For it is in giving that we receive." Saint Francis of Assisi
Donate to the home by clicking on this link here or the Donate button below
Thank you, Sr. Irma and the Franciscan Sisters
<![if !vml]>
<![endif]>
<![if !vml]>
<![endif]>
<![if !vml]>
<![endif]>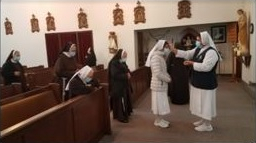 July 14, 2021 is the St. Francis Home annual on-line fundraiser: Gift-Giving Day. The St. Francis Home needs your help this summer. July 14 is the only fundraiser that we can do with the Coronavirus keeping the Sisters and ladies at the Home in order to protect them. The Guild wants to have funds for repairs to the Home as well as supplies to protect against the virus. We are 1 of 7 organizations to raise funds for Seniors, in 'Preserving dignity'. We are listed last to view our profile.
To donate on July 14, 2021 Go to:
https://preserving-dignity-giving-day.ocnonprofitcentral.org/
Your donation will be doubled dollar for dollar up to $10,000, thanks to 3 generous donors:
Michael and Susie Preissler and family, Carol Alderete, and an anonymous person. Thank you for your generosity in reaching our goal of $20,000.
Also, if you want to send a check please do so (DO NOT SEND CASH)